Sweet or salty, nourishing and with seasonal products.
From the Breakfast Buffet
to the Breakfast Table with Menu'
A choice to create awareness and consistency of actions and involvement of guests in good practices of land protection, food production, waste and waste reduction
In the difficult years of the Pandemic, it was imposed by the WHO not to serve the breakfast buffet to limit contact and contamination between guests and food.
One of the services most loved by hotel guests, the breakfast buffet in the hotel, was cancelled.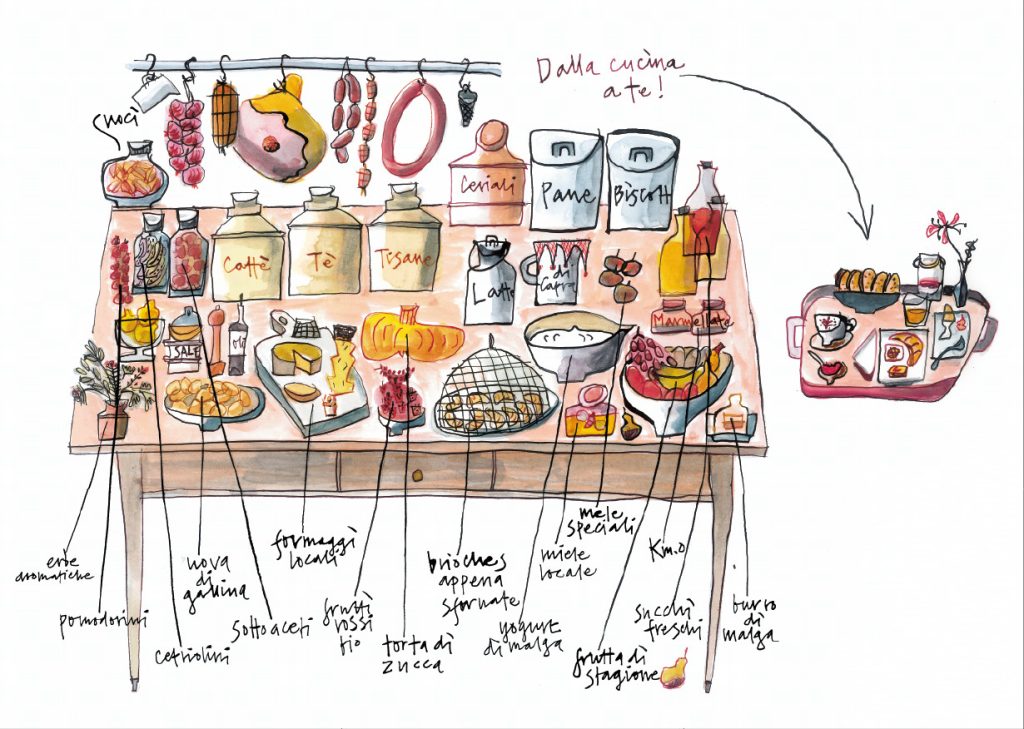 From 2020 to today, 2023 we have created our good and beautiful model
SUSTAINABLE BREAKFAST @Suite Inn in key of
REAL SUSTAINABILITY AND ENHANCEMENT AND PROTECTION OF THE PRODUCT AND THE TERRITORY
a Tailor-made and Wellness Breakfast
QUANTITY according to staff NEED and PREFERENCE
with AWARENESS and CHOICE in the composition of
own favorite breakfast outside the house,
also gluten-free, vegan, vegetarian
We have recovered the pleasure of preparation and the joy of service, maintaining high standards of hygiene and quality, with an orchestral management of our small local producers, accomplices of this formula that allows the reduction of leftovers and food waste, accompanied by reuse and recycling respecting the message from years past to safeguard the planet in not soliciting food production that generate unsold and therefore waste of food and energy to produce, store and dispose of them.
It seems that we remove something, but actually we return double in value for the person.
We invite you to be our guests at the table!
From the Pantry will come to you
the sustainable breakfast of the hotel suite inn
Fresh roasted coffee 100% Arabica of our roaster PAOLO
Fresh and fragrant production delivered at dawn by the baker PAOLO
The vaccine production is transformed into yoghurt and cheese, which from the mountains comes to us from MATTHEW
the naturally gluten-free meats such as San Daniele ham and many other ingredients, chosen directly by us to give you breakfast at the hotel.
And we really make it as a gift !
This breakfast service management model earned us the sustainability certification
GREEN KEY in APRIL 2023 and participation in the European ETGG2030 European Tourism Go Green 2030 programme
Seasonal and zero kilometre products
We are always curious and attentive to food trends for fashion or wellness!
Every morning you can choose from a rich selection of sweet and savoury products. The juices are made with seasonal fruit, such as oranges, of strictly Italian origin. You can accompany fresh drinks with different variations of biscuits, brioches of various types or fragrant bread, black and white, freshly baked and delivered at dawn by our trusted bakers (even their women, yes!).
Discover that Friulian beekeeping honey has a curious name, deriving from the particular pollinating plant that grows in the bed of the river Tagliamento.
The jams, organic and natural zero kilometer, come from Carnia to ensure flavors and genuineness. They also go well with our invitation to cheeses and cured meats chosen for the palate that prefers salty.
Complete the choreography of fruit, the choice of cereals and small surprises depending on the season. The hot drinks are served expressed in a race between us to those who can prepare the best and beautiful cappuccino!
Member of the AIC Circuit Italian Celiac Association
Our buffet is prepared from 7 am to 10 am with elasticity.
Breakfast service specially prepared in case of departures with check out before 07.00.
Breakfast in the room on request.
Newspapers and newspapers are always available for your first reading.
For Those Who Are Intolerant to Gluten
The king and queen breakfast is also gluten-free. There are many gluten-free and lactose-free ingredients that are already present daily for the well-being of all, indistinctly.
And then of course there are special surprises and the possibility to also have the gluten-free "picnic take away" for those who are traveling or hiking in unattended places from the point of view of gluten-free catering.
Travelling with celiac disease? It is not an uncomfortable company for us in Hotel Suite Inn: we manage it together and make it normal!
For those traveling with Celiac Disease: visit our page on www.willeasy.net for an in-depth analysis of your needs that we are committed to meet !